Cynthia L. Eppley, MA July 4, 2020
Hugs These are strange times in this changing world. COVID has kept us home and isolated. Even though many areas have gone to "Green", there are still restrictions and face masks are mandatory in public places. And although the numbers have been decreasing, there are areas where they are slowly rising.
What to do? It is well known that hugging has inherent value. If you've been "Sheltering in Place" since March, it is almost unbearable to be without human contact. And more than just social interaction, the touch of another. The first weekend that "Outdoor Dining" was allowed? The restaurants were mobbed. Why? Getting out for a meal was one aspect, but even more, the social value of being out with others was finally realized.
Touch We long for human touch. The cotton industry began a campaign long ago with this foundational fact. "The touch, the feel of cotton, the fabric of our lives."
What's so Special about Hugs? If you've ever held a baby, you know the value of that human touch. It calms and soothe a fussy infant. And it helps us as well. Hugging induces oxytocin, the "bonding hormone," thats renowned for reducing stress, lowering cortisol levels and increasing a sense of trust and security. It makes sense then, that hugs strengthen the immune system. As the Pandemic wears on, the desire to be with others, and the desire for human touch has only strengthened.
Perhaps that is why we are getting more irritable and "cabin fever" is sky high. That pent up feeling has reached a climax.
Another friend has been expecting his first grandchild. He just turned 71. He and his wife purposely were COVID tested: negative. This set the stage for a long road trip to see that dear little boy who was just born.
Such longing and expectation! That first embrace will surely be magical.
Books: A dear friend saw this dynamic of "Socially Distant Hugs" and wrote about it:
If You Can't Bear Hug, Air Hug: A Book Inspired by Social Distancing Paperback – May 23, 2020, Katie Sedmak (amazon.com)
"Join fuzzy bears, flapping owls, and more adorable animal friends as they prove that distance can't overcome love and friendship!
"If You Can't Bear Hug, Air Hug" is an uplifting book of rhymes for children that explores the creative ways animals might show affection while socially distancing and delivers a reassuring message of love and resilience."https://www.amazon.com/gp/product/0578700670?pf_rd_r=Q6RGKY9SCNNZXNY44FSA&pf_rd_p=edaba0ee-c2fe-4124-9f5d-b31d6b1bfbee
Visit theairhugbook.com for more info.
Different groups For singles, the desire, or even the need for physical touch has become paramount. How do they handle that strong need? I know of several groups who have become a "family" together, basically "sheltering in place" with a small group. It brought socialization, fellowship, and interaction.
For the elderly, there is a unique risk. To become too close to others may expose them to the virus. Since the discovery of asymptotic carriers, this is a very real threat. How many babies have been born since March? And how many grandparents are yearning to see those new babies? And more than just to see them, but to tenderly enfold them in their arms?
And with nursing and care homes locked down, the isolation the elderly feel is very real:
Beauty for Ashes- Hope and Healing in Jesus Christ May 26 at 6:59 PM "She's 98. And the isolation and loneliness came over her in a river of tears at my visit. Not able to see her son or daughter for 6 weeks. She wants to die. Because at 98 the waiting is too much. I offered to FaceTime her son. She cried more. She wanted a real hug. I in my PPE said enough. I too bent over into her arms she wrapped so tight around me. I broke the rule. I hugged her till she could breathe. We both had a healing. I'd do it again. Love matters most. The older folks in long term care haven't been touched or hugged. It's causing failure to thrive. Hugs are a necessary part of living. " – shared from a nurse from a Covid healthcare workers site, because THIS right here is what the world needs to see
(shared with approval or said nurse…thank you)
Jennifer Rose".
Innovation: The Hug Tunnel Necessity is the mother of invention. (Plato) Take note:
"A care home for elderly people in southern Brazil has come up with a creative way to bring some love to its residents amid the coronavirus pandemic, by creating a "hug tunnel" that allows relatives to safely embrace them. The idea emerged last month, shortly after Mother's Day, when staff at the Três Figueiras facility in the state of Rio Grande do Sul noticed some residents were feeling down. "We noticed that our senior residents were feeling sad," Luciana Brito, one of the owners of the facility, told CNN. "We thought they would be much happier if we found a way for them to hug their relatives."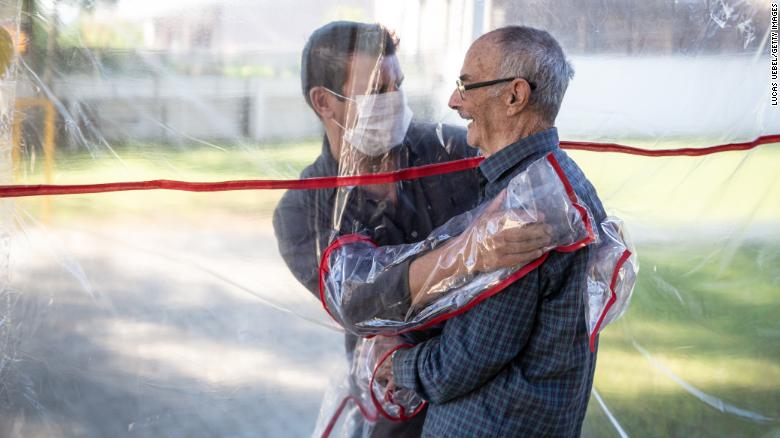 https://www.cnn.com/2020/06/18/americas/brazilian-care-home-hug-tunnel-scli-intl/index.html
In the Beginning…. It is not surprising that we have an inborn need for touch and belonging. God Himself instituted this within us when He created us:
Genesis 2:7 Then the Lord God formed a man from the dust of the ground and breathed into his nostrils the breath of life, and the man became a living being.
This is the picture of an intimate creation, not a mechanical engineered slurry of atoms that instantaneously formed man.

"Social Distancing" Hugs We have gotten to know many of the neighbors during this time of Pandemic. To our delight, there are 2 little girls up the street that love our new puppy….and we have formed a close friendship. Hugs are out of the question. But then one day this appeared at our doorstep, with a gift bag:
"Sending Hugs your Way"
"In a world full of darkness we could use more light, a little more love and a lot less fright.
So let's take it day by day. God will surely help us through. And in the meantime, here's some socially distant 'hugs" just for you."
And in the gift bag? A package of Hershey Hugs, of course. It was a "Social Distance Hug" and it made my heart melt.
The Velveteen Rabbit "What is Real?" asked the Rabbit one day, when they were lying side by side near the nursery fender, before Nana came to tidy the room.
"Does it mean having things that buzz inside you and a stick-out handle?" "Real isn't how you are made," said the Skin Horse, "It's a thing that happens to you. When a child loves you for a long, long time not just to play with, but really loves you, then you become Real." "Does it hurt?" asked the Rabbit. "Sometimes," said the Skin Horse, for he was always truthful. "When you are Real you don't mind being hurt." "Does it happen all at once, like being wound up," he asked, "Or bit by bit?" "It doesn't happen all at once," said the Skin Horse. "You become. It takes a long time. That's why it doesn't often happen to people who break easily, or have sharp edges or who have to be carefully kept. Generally, but the time you are Real, most of your hair has been loved off, and your eyes drop out and you get loose in the joints and very shabby. But these things don't matter at all, because when you are Real you can't be ugly, except to people who don't understand."
At long last After a very long wait, we were finally able to see our Granddaughter. The time of quarantine was over. We anxiously awaited their arrival. When their car pulled up? She nearly burst from her seat and rushed to throw herself into my arms.
It may have been the best hug ever.
The Last Hug My mother was near the end, and we knew the time was near: about 6 weeks. I remember saying goodbye, and she was standing in her walker. I gave her the kind of hug where you don't let go. You wait for them to release the hug first. One of my hands was on her head as I felt her soft, grey hair. One hand was on her waist. I drew her near and held her close. I felt her warmth. I caught her scent. I didn't want to let go. I wanted this hug to last forever. This hug would have to last until the next time in glory.
Until then….. Oh how we long for COVID to be over! We long for the day of full healing and restoration. Perhaps our hugs will be nestling a fresh newborn. Or it will be the soft aged skin of the elderly. When we can hug then?
Let's make sure our hugs are long and lasting and firm. Let's make the hug last a little longer and a little more closely. Let's be the last one to let go.